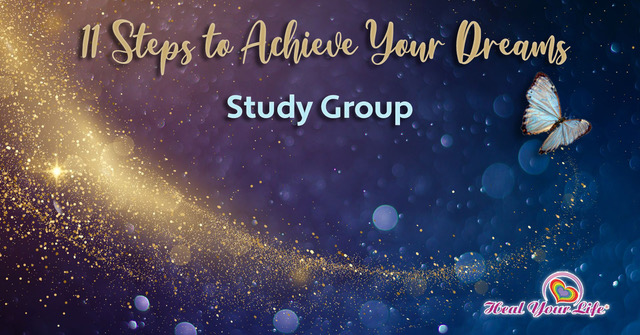 Join us this January for a transformative journey over six weeks!
Are you ready to turn your dreams into your reality and create a life you love? Are you looking for a burst of new year's inspiration? Then sign up for this brand new online study group, based on Patricia Crane's latest book: "11 Steps to Achieve Your Dreams: Your Path to Empowerment."
Over six Thursday evenings, we'll enjoy plenty of learning, fun and 'aha' moments as we take a journey of self discovery through the eleven steps together.
11 Steps to Achieve Your Dreams offers a proven roadmap to transform aspirations into positive change. Filled with practical suggestions and exercises, inspiring success stories, and personal enquiry, the book will be our guide through inner work to break free from limiting beliefs and self-doubt, paving the way for a purposeful and fulfilled life.
🌠 Why Join the study group? 🌠
Guided Transformation: Explore each of the 11 steps in-depth with six weekly 90-minute sessions.
Engage and Connect: Connect with a supportive community, where we encourage and uplift each other – and undoubtedly have fun along the way too!
Practical Exercises: Dive deeper with additional exercises, videos, discussions, and personal journaling.
Take time for Change: The six week programme gives you time to really practice and integrate each of the steps to truly make a difference in your life.
Stay the Course: Working together we'll experience the power of groups to keep us on track.
Take the first step toward a purposeful and fulfilled life. It's time to unlock your full potential, offer your gifts to the world, and manifest your desires.
🌠 How much will it cost? 🌠
The cost for six sessions is £120. However, there's an earlybird rate of £90 for anyone booking by 30 November 🙂 You'll also need to get a copy of the book 11 Steps to Achieve Your Dreams: Your Path to Empowerment in advance of the first session. You can choose to pay in two installments if you prefer.
🌠 When does it start? 🌠
📆 Save the Date: 11 January-15 February 2024🕓 Session Time: 6.30-8pm GMT 💻 Online Platform: Zoom
🌠 How can I book? 🌠
You can book immediately on Eventbrite here: book onto 11 Steps to Achieve Your Dreams
Or if you'd rather send a cheque or need to pay by installments, ping me an email at jane@janematthews.com, or text me on 07791065362 so we can sort that out.