The Carer's Handbook aims to be a one-stop-shop for the huge percentage of the population who'll find themselves in a caring role, whether that involves supporting a housebound neighbour, or giving up work to care full-time for a confused parent.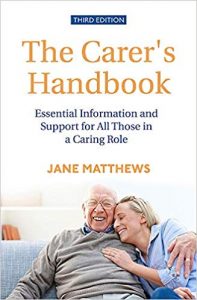 What they say:

An invaluable resource for all carers. –Johnnie Walker MBE, joint patron Carers UK

"An indispensable guide for carers which also serves as an excellent reference book".
— Gee Mullaney, Swansea College

"A lifeline to carers" — Milton Keynes Citizen

"A one-stop advice shop for the two in three of us who, sooner rather or later, will find ourselves in a caring role."
— News & Star (East Cumbria)
This comprehensive guide will also help carers care for themselves. It considers all the difficult feelings that go hand in hand with caring, including anxiety, anger, resentment, guilt and, more broadly how relationships may be affected.There's guidance on what to do when a carer feels they are no longer able to cope, and how to prepare emotionally and practically for the time when caring comes to an end.

The Carer's Handbook appears on the NHS's Books on Prescription list (https://reading-well.org.uk/books/books-on-prescription/18764337) and fills a gap for the UK's seven million unpaid carers, telling them what it is they don't know and offering practical help and advice including:
an extensive list of resources to arm them with all the contacts they need to not just survive but thrive in their role
case studies from carers sharing their real experience on the front line of looking after loved ones
handling their own difficult emotions, and the challenges to family relationships that can come along with someone needing care
recognising and avoiding stress and depression and setting boundaries
prioritising self-care, and informal sources of help and support
tips for family and friends to help support carers
keeping care arrangements under constant review, knowing when the time is right for a move to residential care – and choosing the best home.