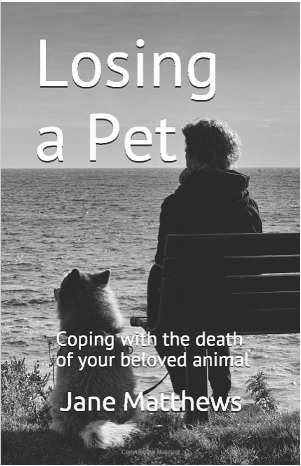 What they say:

"One of the best books of its kind," Kevin Spurgeon Dignity Pet Crematorium
"I loved the book and think many, many people will be helped by it. The length and content are ideal and I would recommend it to anyone facing euthanasia or who is experiencing the grief of losing a much loved pet." Dawn Murray, Pet Bereavement Counsellor
We routinely send a copy to all of our bereaved clients and have had many positive comments from clients who find it very helpful and a great source of comfort." Nicky Bromhall BVSc MRCVS, Bristol
"I lost my cat companion of 12 years yesterday in an emotional farewell at the vets. Downloading and reading your book today has helped me greatly, helped me to normalise what I am experiencing and how to hold a frame to my experience. It brought me a great deal of ease in a time where my heart feels broken." Phil
"This book is a repair manual for torn, battered and broken hearts". Kennel Gazette (official publication of The Kennel Club)
"Your book gave me permission to feel what I was feeling, including the numbness, which was very unnerving and guilt inducing until I read your book. I really am hugely grateful for your book." Donna
The loss of a pet can hit us as hard as the loss of any close friend. Yet pet bereavement is so little talked about that along with grief and pain animal lovers may also find themselves having to deal with feelings of confusion and even embarrassment at the strength of their reaction.
For anyone grieving the loss of a pet, or facing up to having a pet put down, this short book aims to fill the gap. Losing A Pet offers practical guidance, emotional support and, above all, the reassurance of finding that you are not alone. For those supporting someone through pet bereavement, either personally or in a professional capacity, its blend of compassion and practicality will help the healing process.
Contents: the place of pets in our hearts and lives; understanding why we feel so strongly; the stages of loss; feelings of shock, denial, anger, blame, guilt; having a pet put down; children and loss; when a pet goes missing; getting help; healing yourself; commemorating and celebrating your pet; further resources.
BUY THE PAPERBACK for £4.99 on Amazon
BUY THE E-EDITION for £2.99 from Amazon
BUY TRADE COPIES: Ten or more copies available at £3 a copy, post free, for veterinary surgeries, pet crematoria, pet loss counsellors, and other animal professionals. Invoice payable by BACS, Paypal or cheque sent with books. Order by contacting me direct by email or phone 07791 065362. .