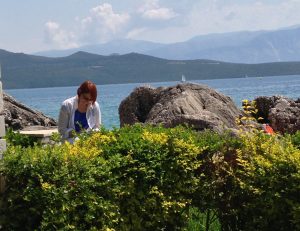 What does it mean to live softly?
It's the opposite of how most of us live: efforting, fighting, resisting.
At the heart of this workshop is the belief that when we learn how to let go of the idea that life is hard, we can end the struggle and create a life that works.
The workshop takes place over three two and a half hour sessions, giving you plenty of time to assimilate and practice what you learn.
Based on a forthcoming book of the same name, this workshop will help you:
discover what effect 'hard thinking' has on your life and how to let it go
identify a new approach to transform your experience in the areas many of us find the hardest – relationships, work, purpose, abundance, well-being and self-esteem
change your relationship with yourself as you understand the effects of being hard on yourself and learn to practice genuine self-care
practice techniques of non-resistance – learning to love what is – in order to experience more peace and happiness in daily life
learn to loosen your grip on the controls, ask for guidance and trust the outcome, enabling you to flow with life in a way you never have before…
Throughout there'll be insight, inspiration – and the fun you'd expect from an approach that is all about lightening up! This workshop is for anyone who has ever found themselves wondering why life is so hard. Come and learn to let go and flow!
See www.serenityretreat.co.uk for details of next course, June 5 – June 12 2022.
what they say:
"The course was so good and I am still reflecting on some of the insights I gained."

"Thanks again so much for the inspiring course which seemed to come at just the right time for me."

"The perfect mix of personal and spiritual development."

"The course was brilliant. Jane is the perfect teacher, allowing everyone a voice but gently challenging us all."